SERVICES
Irrigation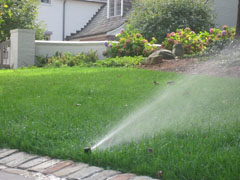 Automated irrigation systems are simple to install, but not always simple to manage effectively. Irrigation systems can vary in terms of how accurately and efficiently they water different areas of your landscape. Over-watering is the leading cause of plant decline in the Atlanta area. And with the rising costs of municipal water, we can help ensure you're getting the right amount of water, to the right place, at the right times, for effective and efficient maintenance of your groundcovers, trees and shrubs and budget.
Drainage
Todd is extremely capable, hard-working and easy to deal with. He has excellent judgement and is particularly good at anticipating and solving tough landscape problems, like drainage issues. He is a person of character and integrity and I give him my highest recommendation.
Peter Genz
Atlanta, GA
View all testimonials >
To thrive, Atlanta's landscapes must be designed to accommodate the full spectrum from draught to severe thunderstorms and flooding. Soggy grass, washed out slopes, wet basements, or diseased plants can be signs of drainage issues that we address with over 25 years of experience in grading, retention and drainage solutions.