SERVICES
Alternative Water - Rainwater Harvesting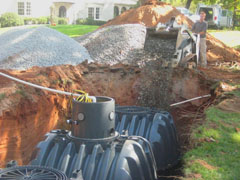 Do you have a large amount of water run-off on your property? Would you like to capture and reuse this resource? We can help. Over the past few years, as water rates soar, more and more people are turning to their own means of reducing the amount of water they use from the public system. Rain water harvesting is not a new science, new science has been applied to harvesting for better collection and delivery to the intended destination. Specifically, there are more tanks, pumps and controls available now for homeowners and businesses to implement this type of system in the urban environment.
We will inspect your property and meet with you to recommend the proper size and possible types and location of the storage system. From there, we will produce and estimate for a turn-key installation.
Commercial Water Solutions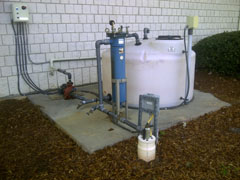 Companies are always trying to trim their fixed costs. Utilities that are seen as high cost such as gas and electricity are the first to be assessed and solutions implemented. Now, water is making larger wave in the cost of utilities. Though not as expensive as electricity, there is still a lot of savings potential for certain businesses.
HVAC systems that utilize Cooling Towers as a source for regulating the environment in office buildings, factories, warehouses, etc..., use a tremendous amount of highly treated, expensively delivered drinking water to operate. The water is then treated again and eventually dumped down the sewer, sewer rates apply as well.
The use of well water is an investment that can positively impact the "triple bottom line" profit, by substantially reducing energy costs; people, by preserving the drinking water for drinking especially in regions like the southeast where supply is limited; and planet, by reducing, reusing, and recycling as much water as possible to use resources more wisely.
Contact us to set up an appointment.